Lookouts near Bright – Views, Fresh Air and Adventure!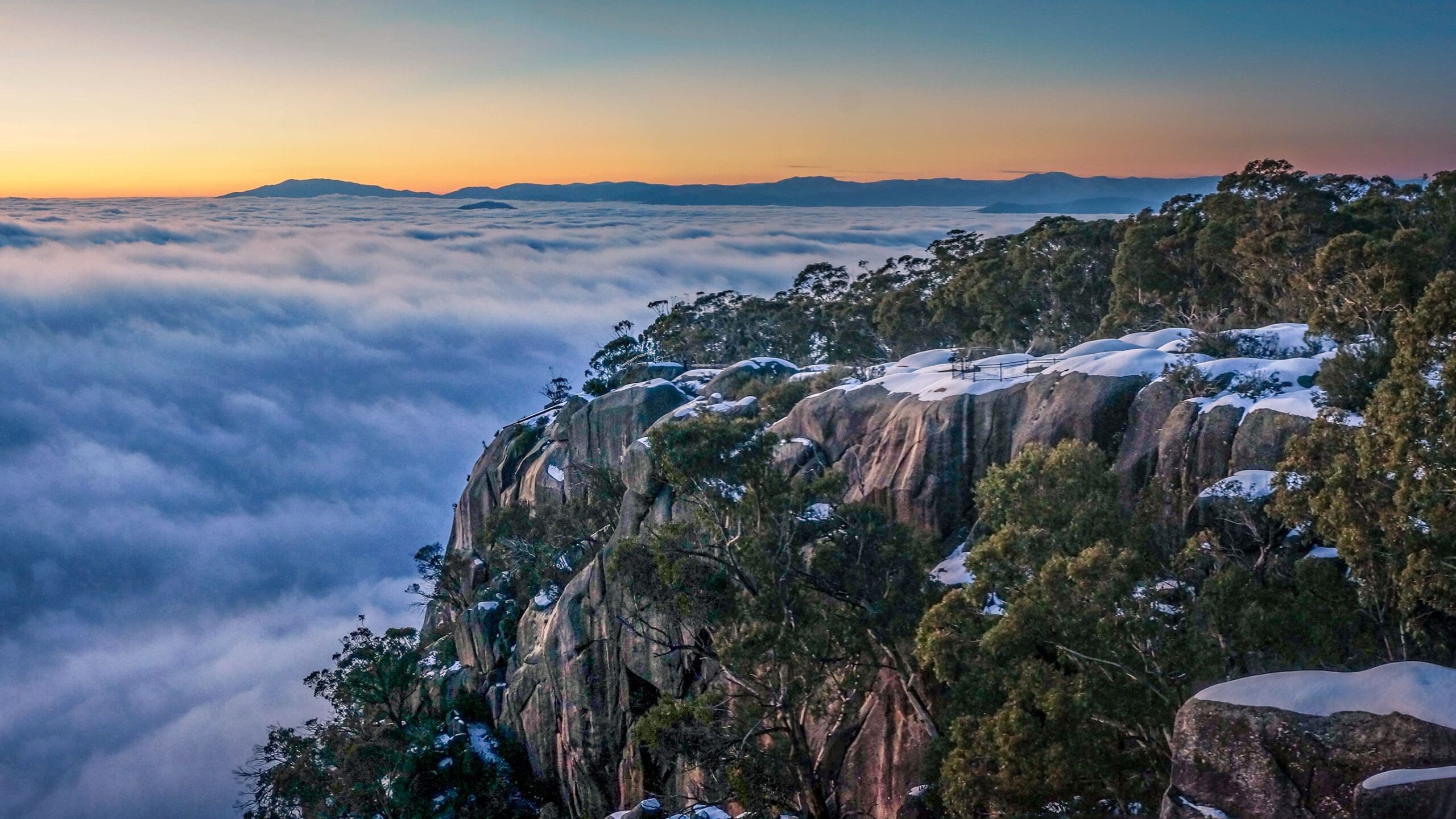 Views look better from up high
---
Mount Buffalo is as impressive up close as it is from afar. Its Granite cliffs and rocky outcrops rising up from the ovens Valley floor commanding attention – begging to be explored.
Sheer granite cliffs that plunge 300m to the gully below, mystical boulders strewn across the plateau, snow gums and waterfalls, canyons, crevices and caves, winter snow and summer wildflowers – Mount Buffalo is a truly special natural wonder of the Australian landscape. Throw in 360º views of the Australian Alps and the country's largest wooden building – the heritage-listed Mount Buffalo Chalet – and you've got a destination that should be high on everyone's bucket list.
Mount Buffalo National Park is a wonderful destination anytime of year. Its cool alpine air makes for a refreshing escape from the valley heat in Summer, when clear skies reveal stunning views of the Australian Alps. Summer's long days provide plenty of time for hiking and swimming or outdoor adventure activities like rock climbing, abseiling and caving.
As Autumn descends, so does the fog in the valley. This creates an opportunity to climb above the clouds for dreamlike views from The Gorge Lookout.
Winter brings the snow. Dingo Dell and Cresta Valley are filled with the laughter of excited children tobogganing, building snowmen and learning to ski, while – when natural snowfalls allow – more adventurous skiers can be found backcountry. There is no park entry fee to experience the snow here, making it an affordable destination and is especially popular among families with small children.
Spring rains and snowmelt see the mountain's many easily accessible waterfalls roar to life and as the days warm up, nature begins its cycle all over again.
The Gorge Lookout & Chalet
---
Stand atop a 200m granite cliff at an elevation of 1,385m and look down to the Ovens Valley and the alpine peaks beyond. Picnic by the Chalet and walk the Gorge Heritage Walk to stand above Crystal Brook Falls.
Information about more lookouts in the Bright & Surrounds area can be found here.
Huggins Lookout
---
This walk can be accessed from either McFadyens Lane (off Bakers Gully Road) or from the corner of Deacon Avenue and Zivan Court. The track winds its way steeply up the side of the valley and rewards the walker with beautiful views over Bright, return on the same track. Please note there is no access to McFadyens Lane via Zivan Court.