Cycling and Mountain Biking
Nestled in the Ovens Valley, Bright has become an all-round cycling destination of choice. Justifiably one of Victoria's favourite year-round holiday towns, it's known as much for its spectacular autumn colours as for its perfect location and activities.
Bright is the ultimate destination for families looking for an outdoors holiday. The Splash Park for the kids, loads of fabulous cafes and restaurants, and spectacular mountain scenery for the adventure lovers. Cycling opportunities are everywhere, including amazing mountain biking, road riding, gravel backroads and the famous Murray to the Mountains Rail Trail.
Sourced from Ride High Country
Rail Trail
The Murray to Mountains Rail Trail is a real favourite with families and casual cyclists searching for a scenic and flat ride. Ride the 12km return trip to Porepunkah, sample some produce, stop at a winery, grab a coffee, meet other riders and soak up the stunning views along the way.
If you feeling extra adventurous, why not test those legs and take on the 70km to Myrtleford and back or the full 100+km to Beechworth or Wangaratta.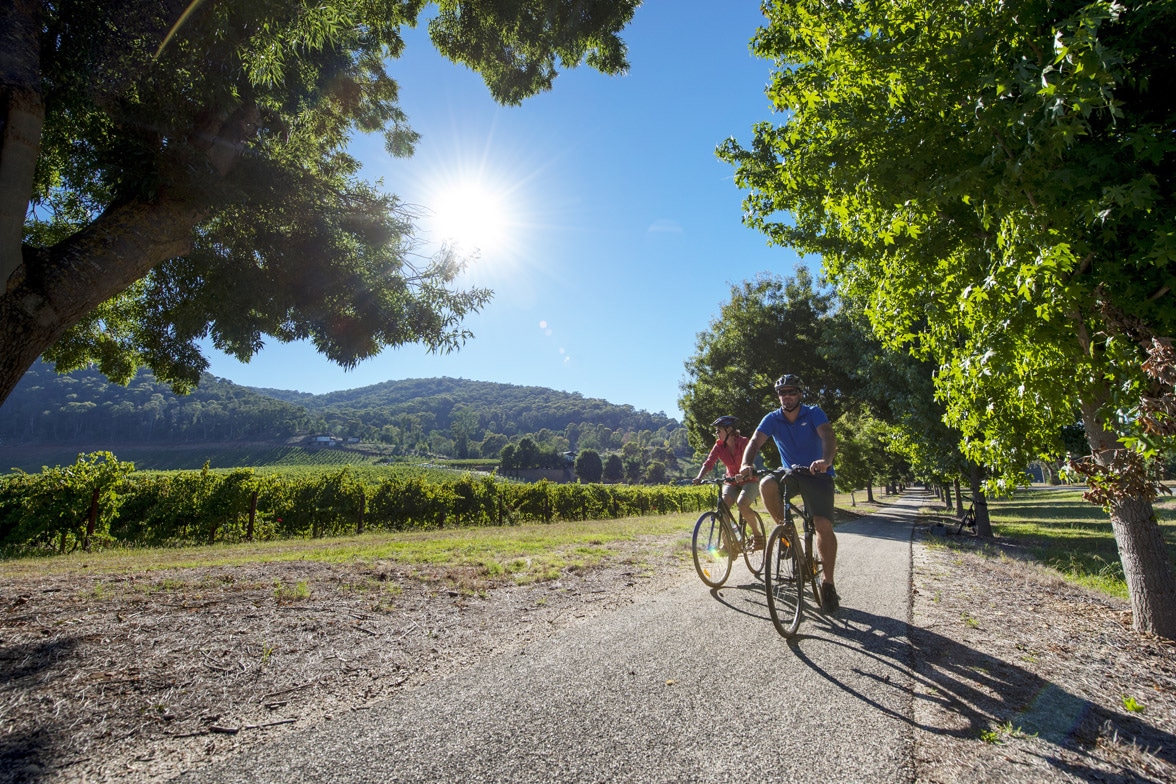 Bright Mystic MTB Park
There's something here for all mountain bikers. Warm up on the flatter, twisty riverside trails before gaining altitude on the up tracks and sending it as fast as you dare on the way back down.
The riverside XC trails double up as excellent riding options for kids or beginners, and if you don't like riding uphill you can hire an e-MTB or book a day of shuttles.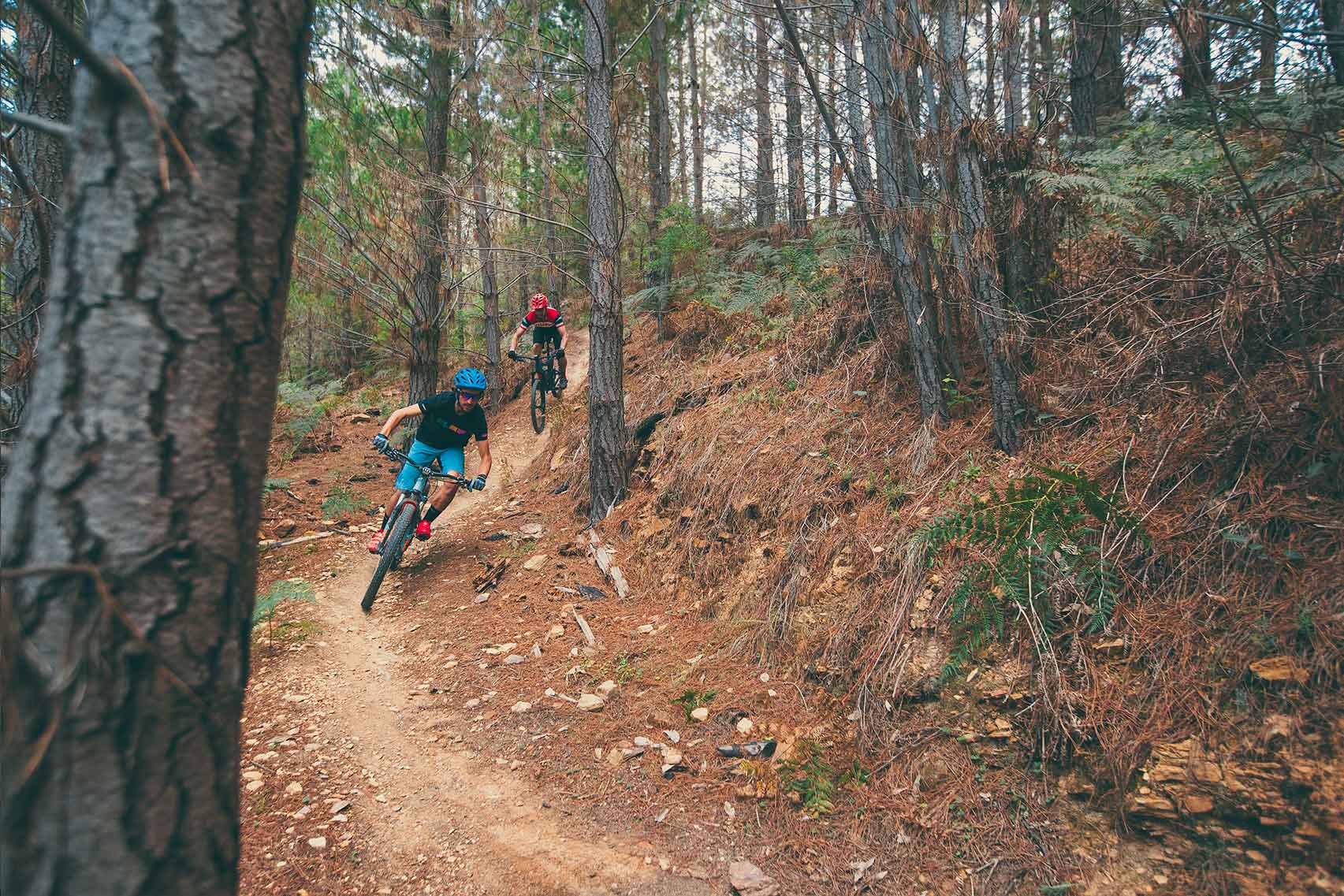 Road Rides
Whether it's taking on a challenging mountain ride or cruising a back country road, you will be rewarded with crisp alpine air and breathtaking scenery when tackling the tarmac around Bright and surrounds. The town is a great base for taking on four of the popular 7 Peaks Rides of Hotham, Falls Creek, Dinner Plain and Mount Buffalo, some of Australia's toughest road climbs.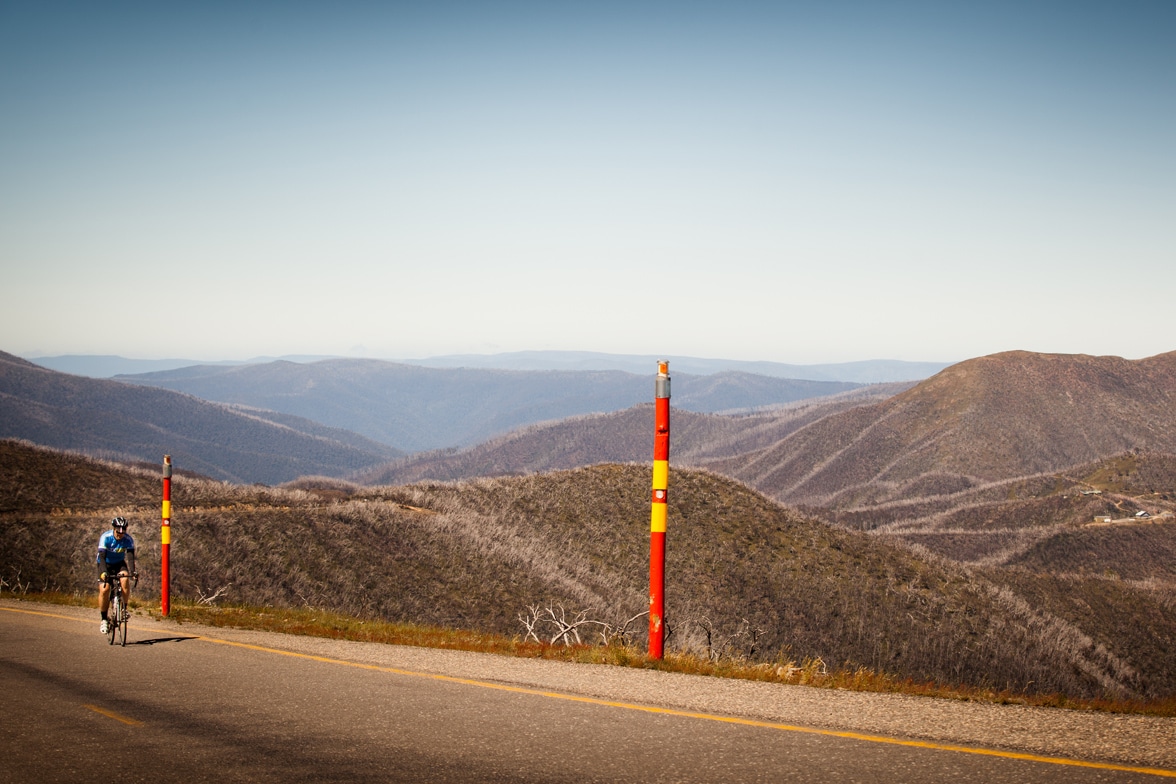 Family Rides
Walk around any of the Bright campgrounds at any time of year and you'll see hundreds of bikes. It really is a superb cycling destination for kids and families.
The Murray to Mountains Rail Trail offers safe, flat riding through Bright and beyond to Porepunkah, while the riverside MTB trails provide a great first experience for kids to hone their off-road skills.
Step it up a notch with the green and blue trails at Mystic MTB Park and cool off with a dip in the river at the end of the day.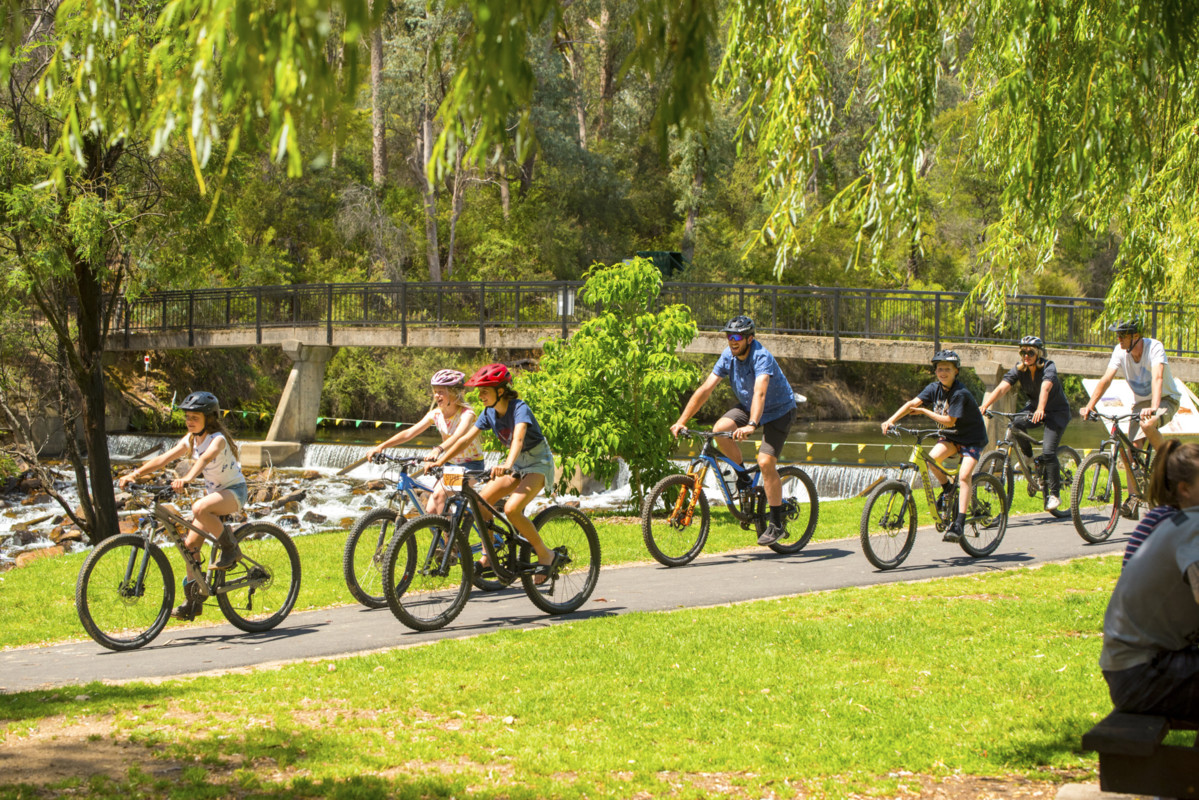 Our favourites!
An Apple A Day
Produce is the perfect way to explore a little further afield with the family. Saddle up on a hire bike or e-bike (from Cyclepath or Bright Electric Bikes) and head down the beautiful tree lined bike path to Wandiligong. Streams, valleys, orchards and galleries are all within an 8km pedal from the heart of Bright (and longer if you'd like). Ride to Nightingale Bros Alpine Produce Store and enjoy an apple cider or ice cream in the sunshine before an easy pedal back to Bright.
The New Kid On The Block
Move over Hero Trail, there is a new kid on the block. Come and experience the newly built trail in the Mystic Mountain MTB park. Shred Kelly's Last Stand is super fast, flowy and truly shred-worthy. Scrub the jumps, rail the berms and let gravity take you from top to bottom at high speed!
Mount Buffalo & The Horn
Looking to complete one of your 7 Peaks Rides, but also want to tackle some epic gravel? Then head to Mount Buffalo. The Mount Buffalo Chalet climb has an average gradient of 5% and is relatively steady for the entire 7 Peaks route. Instead of descending, continue climbing… the road undulates for another 7kms before you hit gravel for the final 4km climb, the The Horn – where the views are nothing short of spectacular.
If the High Country is Australia's premier cycling region, Bright is its beating heart!